Otherwhere Gazette » Reviews » Lawyers in Hell: Buy it or I'll sue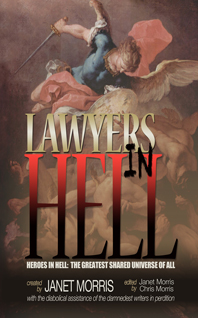 Full disclosure here, I'm a fan of the shared universe anthology series Heroes in Hell, have been since the series debuted in the mid 80s. I'm also a Janet Morris fan. (Ms. Morris, if you're reading this, I've been looking for the third threshold book for years. That series was great fun.) So imagine my delight when I get an email from Jason Cordova, A. — complaining about the writing time reading Otherwhere Gazette cost him and, B. — would I be interested in reading the latest installment "Lawyers in Hell?"
Um.
Yes?
A few days later I get a Kindle copy of said book and settle down to read. The first thing which strikes me is this book is not nearly as dark as the previous entries in this venerable series.
It's been a few years since I pulled down my, admittedly, rather musty copies and read some of my favorite shorts. (My faves have always been the Napoleon and Wellington stories, the Caesar pieces and a particular one-off "There Are no Fighter Pilots Down in Hell," by Martin Cadin.
In this latest entry, Hell is being audited, and even Satan is running scared.
We also discover pretty much every lawyer who ever lived, from Clarence Darrow to Oliver Wendell Holmes is in Hell. (But you already knew that, right.)
We have everything from Marie Antoinette seeking clemency to a squad of airborne attorneys parachuting in to do injustice in Ashcanistan (from the at least partially diseased mind of Michael Z. Williamson, they don't call him "Mad Mike" for nothing) and using pogo sticks — yes you read that right — for combat mobility.
I've always enjoyed the series, and it's had some amusing moments, but this might be the first time I've ever laughed out loud.
Look, just go pick it up. If you're a fan of the series you don't need to be told why. If you've never read the series, then you need to.
Available from Amazon.com and probably some retailers as well, but really, we're SF fans, we mostly dont' like to leave our chairs anyway.
Filed under: Reviews